For me, growing up was always intertwined with moving. My family and I moved a lot, usually every three years, across cities and countries. We often also moved apartments in the same city. And I've always loved it. But it sometimes feels odd to me that I'm not tied down to a place, especially when most of my friends have known the people in their social circle since they were toddlers or when they talk of "back home".
Those words often leave me in a whirl of confusion, to the point where sometimes, as a younger person, I couldn't answer the basic question, "where are you from?", which lead to me having to give awkward, longwinded explanations or just awkward shrugs.
Either way, it was awkward.
But there have always been places I have felt more at home in than others. And for me, one of those places has always been Mumbai. I moved to Mumbai in the first grade and though I hated it at first, the city gradually grew on me.
Mumbai is a city of movement, so it's only fitting that I lived here in the times when I, too, needed to push myself to move forward in life. And now, right after graduating college, on the verge of the next big step, it's best that Mumbai helps me push my boundaries and move forward again.
Despite having lived in Mumbai full-time for four years and for summers later on, I think this is the time when I'm truly learning what being a Mumbaikar might entail. (read: Mumbaikar is the term for people who are typical residents of Mumbai. Similar terms include Delhiite for those from Delhi, New Yorker for those from New York and Bostonite, for well, those from Boston)
Two weeks in Mumbai has also meant two weeks at my new internship, located in one of the old-money areas in the city. It has also meant two weeks of long commutes, my journey from work to home usually taking up to three hours.
And that's where my first lesson came in: for most people in Mumbai, that was utterly normal. Most people don't live very close to work, unless they're living in more temporary arrangements, such as hostels. My family, so far, had just been lucky.
And though I complained and groaned my way through it, I also found that it was a good way to get to know the city a little better and figure out my bearings all on my own. Which is kind of what this whole twenties thing is about, right? Learning to figure things out.
I got lucky again, however. I wasn't on my own. Not only due to the friends and family I have who were familiar with Mumbai, but also due to the amazing help given to me by the people around me, a lot of whom were complete strangers to me. A stranger on the bus talked me through my first bus ride on Mumbai's slightly confusing public transport system. Another taught me how to catch cabs to ensure I would not be cheated out of my money.
And I learnt from friends that this was fairly common in Mumbai. While certain areas were certainly rough and required a battle to get through (such as the Mumbai Local Train), there were pockets of niceness in the city that ran deep. So, I guess, that was Lesson Number Two.
Another piece of luck for me, and I cannot overstate how lucky this was, was the opportunity to watch India's first Broadway-style musical at the National Center for Performing Arts, my first proper weekend in Mumbai this summer.
The play was Feroz Abbas Khan's "Mughal-e-Azam" (Translation: "The Greatest Mughal"), from the movie of the same name, released in 1960. We were lucky enough to catch the very last show, scheduled at the last minute, by the producers and it was supremely amazing. Mughal-E-Azam is one of India's most famous movies and tells the story of a young prince, Salim, who falls in love with a courtesan and fights against his father in order to be able to marry the woman he loves. Slightly cliche? Yes. Still amazing and time-enduring? Definitely yes.
The audience was mostly from the older generation, Mughal-E-Azam being released during their time. This included the older couple next to me, who sang along to all the songs under their breath and kept up to the beat of the songs by tapping their feet. It was definitely one of the sweetest moments I had seen.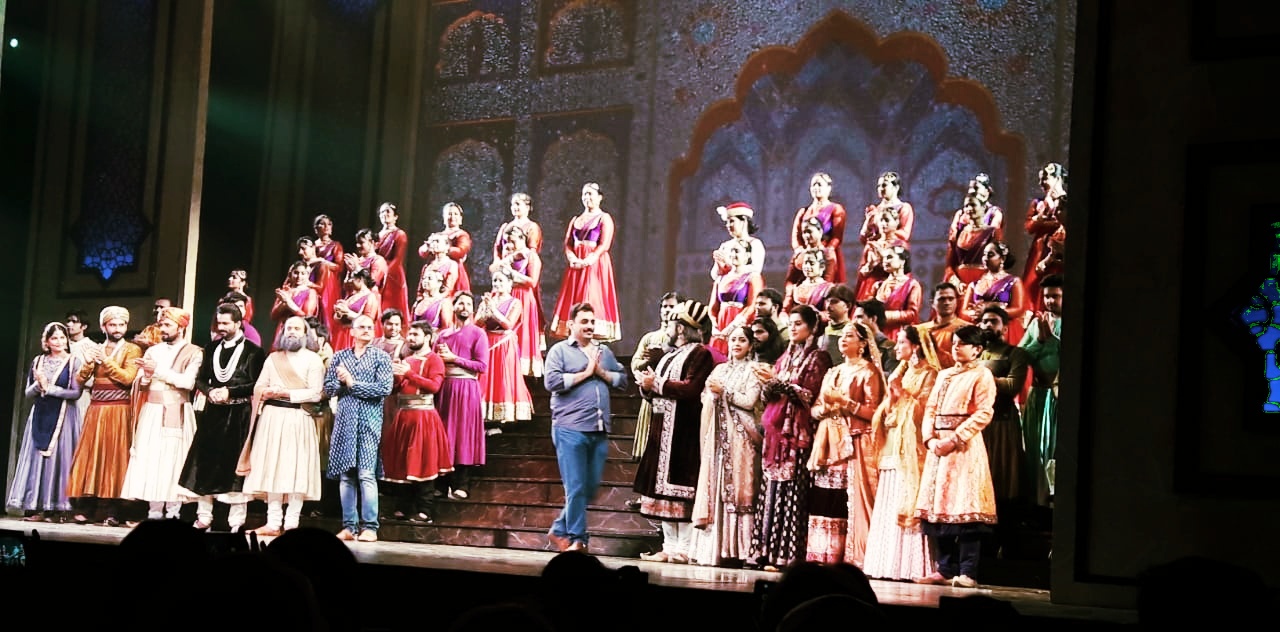 This is the point at which I meant to end my blog post when I thought it up last week. But then, on Monday, something happened. Something so important I felt this also constituted part of the "Mumbai experience".
I ate a sandwich. From a stall.
Now, for anyone who knows me, they know what a big deal this is. I rarely go for street food and when I do, I can't usually finish it. So this is huge for me.
Also, Mumbai's street food culture is huge. You'll find stalls anywhere and everywhere, selling all kinds of street food and they are all, inevitably, delicious. Food makes up a lot of Mumbai's charm and daily life.
And it wasn't just any sandwich. It was the kind of sandwich my babysitter at the daycare center would make for me as a snack. White bread, shavings of nondescript cheese, a mash of random vegetables, more shavings, a slice of bread on top, grilled and finally topped off with - you guessed it - more shavings of cheese.
It was the most ridiculous kind of sandwich ever.
And eating that, in the middle of the street, while realizing I had to run if I ever wanted to catch my bus, made me feel weirdly nostalgic, even though I'd never been in that kind of situation before.
But I realized I was nostalgic because I was relearning Mumbai all over again, the way I'd learned it years ago, by eating sandwiches and catching buses (though granted, back then they were school buses) and I'd likely keep discovering Mumbai again and again, like a chapter in a favorite book.
Have any of you moved around frequently? What has your experience been like? Let me know!